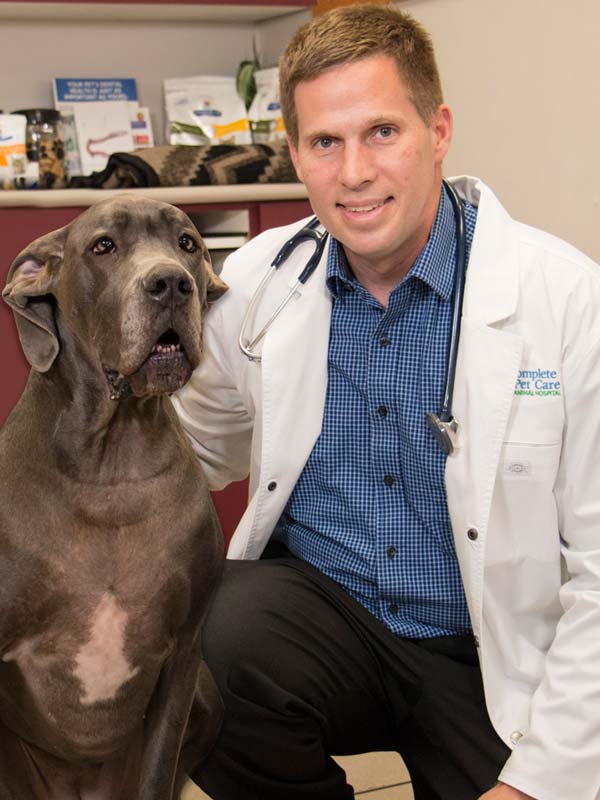 Dr. Jared Conley
Founder
Dr. Jared Conley is the founder of Complete Pet Care Animal Hospital. He was born in Pittsburgh, Pennsylvania, and grew up in Fairmont, West Virginia, a small town in the north central part of the state. He received his undergraduate degree, a Bachelor of Science in Biology, from West Virginia University College of Agriculture and Forestry in 1997. During his undergraduate education, Jared was an avid hiker, enjoyed cycling, and worked at local animal hospitals. He was awarded his Doctor of Veterinary Medicine degree from The Ohio State University College of Veterinary Medicine in 2000.
After graduation, Dr. Conley worked as a veterinarian at an outstanding veterinary hospital in the Raleigh area for three years. He and his wife, Kellie, were attracted to the area because it is a great place to raise a family. Complete Pet Care Animal Hospital is a small animal practice with an emphasis on internal medicine and orthopedic surgery. Dr. Conley is a member of the American Veterinary Medical Association and the North Carolina Veterinary Medical Association.
Dr. Conley is passionate about improving the lives of those around him. Through veterinary medicine, he can help animals in need and can also better their lives and the lives of their pet parents. His favorite part of his job at Complete Pet Care is working with and helping amazing people and the animals they care for.  As part of his commitment to improving the lives of those in his community, he contributes his time and skills to the SPCA of Wake County and actively participates in community programs with his local church.
Dr. Jared and his wife, Kellie, have one daughter, Katlyn, and two sons, Sean and Lachlan. The Conley house is also home to two rats (Remi and Gusto), several saltwater fish, a Great Dane (Adelaide), a cat (Callie) on loan from their daughter, and a gecko (Stevo).  He enjoys spending time with all of them, and he gets the most pleasure out of the joy the pets bring to his family. Dr. Jared enjoys camping with his family, cycling, hiking, fishing, and his saltwater aquariums.